Making the change for a better future in Llandrindod
Tuesday 25th June 2019, 7:00pm to 9:00pm
Herb Garden Cafe
Free admittance and all are welcome!
Powys Cohousing – creating a new vision for community led housing in Wales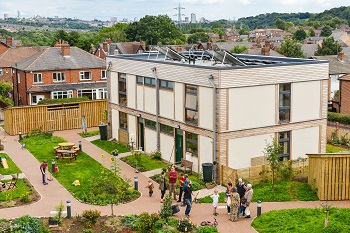 Allan Shepherd is the first person in Wales to be employed by a local authority to facilitate the development of cohousing projects. Supported by the Welsh government through the Integrated Care Fund, and working with Powys County Council and the Wales Co-operative Centre, he'll be meeting with groups across Powys to develop a network of people passionate about developing new affordable community led housing projects.
In his 30 minute talk Allan explains what cohousing is and how Powys Cohousing can help community groups set up their own projects. Using examples from across the world he will show how pioneering community groups have come up with different approaches to housing that help to tackle loneliness, social isolation and inadequate housing provision, whilst strengthening individual and community wellbeing. Having lived in a housing cooperative for five years he also has a wealth of real-life practical experience to offer. The talk will be followed by Q and A's and resource sharing.
Allan is in the process of creating a Powys Cohousing web resource. If you want to know more about cohousing take a look at the UK Cohousing Network website https://cohousing.org.uk/
Please download and display a poster to help promote this event.
Nos Fawrth 25 Mehefin 2019, 7:00pm tan 9:00pm
Caffi'r Herb Garden
Mynediad am ddim a chroeso i bawb!
Cyd-drigo Powys – Creu gweledigaeth newydd ar gyfer tai a arweinir gan y gymuned yng Nghymru
Allan Shepherd yw'r person cyntaf yng Nghymru i gael ei gyflogi gan awdurdod lleol i weithio ar ddatblygu prosiectau cyd-drigo, gyda chymorth Llywodraeth Cymru trwy Gronfa Gofal Integredig, Cyngor Sir Powys a Chanolfan Cydweithredol Cymru.
Mewn sgwrs o hanner awr, bydd Allan yn esbonio beth yw cyd-drigo a sut y gall cynllun Cyd-drigo Powys helpu grwpiau cymunedol i sefydlu eu prosiectau eu hunain. Gan ddefnyddio enghreifftiau o bob cwr o'r byd, bydd yn dangos sut y mae grwpiau cymunedol arloesol wedi datblygu agweddau gwahanol at dai sy'n mynd i'r afael ag unigrwydd, ynysu cymdeithasol a diffyg tai, gan wella lles unigolion a chymunedau. Ar ôl byw mewn menter gydweithredol tai ers pum mlynedd, mae ganddo doreth o brofiadau ymarferol go-iawn i'w cynnig. Yn dilyn y sgwrs, bydd cyfle i ofyn cwestiynau a rhannu adnoddau.
Mae Allan wrthi'n creu gwefan Cyd-drigo Powys. Os ydych am wybod mwy am gyd-drigo, ewch i wefan Rhwydwaith Cyd-drigo'r DU ar
https://cohousing.org.uk/
Details
Tuesday 28th May 2019, 7:00pm to 9:00pm
Herb Garden Cafe
Free admittance and all are welcome!
Following the very successful May Fair held on May 6th that celebrated Llandrindod's diversity, we are providing an opportunity for local people to get together and talk about what matters to us all in our community. We're keen to have people attend who don't normally come to Transition events.
How can we as a community respond together to the depletion of Earth's resources especially now that the Welsh Assembly Government's has recently announced a climate change emergency? As a community we face a different future from the one many people had previously expected.
The Transition movement takes a simple approach in looking for practical workable solutions that involve local people wanting to co-operate in nurturing and protecting their communities in the face of global environmental and consequential threat. Let's talk about what we can do in Llandrindod and its environs. What can we learn from one another? How can we more effectively share our valuable skills, traditions and knowledge to ensure a better future for our children and our children's children? And what additional innovative ideas do people have?
We're hoping on May 28th to open up discussions that will bring hearts and minds together. It will be an opportunity to look at the future and consider ways of supporting the creative and realistic ideas that emerge. Comments and contributions from all those attending will be welcome plus any comments from people unable to attend. As usual It's a free evening with free refreshments.
A larger scale event is also planned for later in the year and we'll be sharing details of that too.
Em Hardy and David Strachan will be hosting the evening and we'll have excerpts from the latest Transition film (Transition 2).
Details
Tuesday 26th March 2019, 7:00pm to 9:00pm
Free admittance and all are welcome!

Nine out of 10 mouthfuls of food in the world come from plants grown from seeds. Currently about 75% of seed sold around the world is produced by large agri-chemical companies. At the start of the 1900s it was possible to find over 500 varieties of cabbage seeds available commercially. Towards the end of the century this was down to just over 20. The pattern is the same for most of our favourite vegetables and fruits.
This lack of diversity in our food crops has huge implications for food security, biodiversity and healthy ecosystems. Farmers and gardeners used to plant dozens of different crops, constantly saving seed, developing and adapting varieties to deal with many different challenges of soil, pests, disease, nutrition and flavour. The introduction of F1 hybrids on a commercial basis changed all this.
According to the United Nations Food and Agriculture Organization: "Plant genetic diversity is one of the central preconditions for food security. It provides the genetic traits required to address crop pests, diseases and changing climate conditions".
We can all do our bit by growing and saving seed from open pollinated seeds and avoiding F1 hybrids.
This month we welcome members of the Lampeter Seed Library to tell us about their project which started about 18 months ago. People can "borrow" seeds for free, collect seed for themselves and return some to the library for others to grow. They are resilient and adapted to local conditions and in these unpredictable times are a big step towards food security and food sovereignty. To help people gain in confidence they run seed saving workshops and always have people on hand to answer questions. Just like the plants they grow from their seeds, their membership is already well over 100 and growing all the time.
Please download and display a poster to help promote this event.
Details
Tuesday 26th February 2019, 7:00pm to 9:00pm
Herb Garden Cafe
Free admittance and all are welcome!

What can we do as a community to become more inclusive, increase resilience and reduce isolation?
Sandra Sankey from
Dementia Matters in Powys
will join us to tell us about her work using the Dutch model of 'Meeting Centres'. Sandra will present the value base and ethos of Meeting Centres, an approach that can be low cost, community orientated, inclusive and person centred.
Details