Making the change for a better future in Llandrindod
Tuesday 24th July, 7:00pm to 9:00pm

Free admittance and all are welcome!
Interested in alternative ways to grow your own?
In his short film, gardener Graham Cole demonstrates how you can feed your family on your allotment and garden using vegetable compost and green manures to obtain good crops of high nutritional value. The film will be followed with a discussion led by local gardener Sian Meredudd.
Details
Tuesday 26th June, 7:00pm to 9:00pm
Commodore Hotel
Free admittance and all are welcome!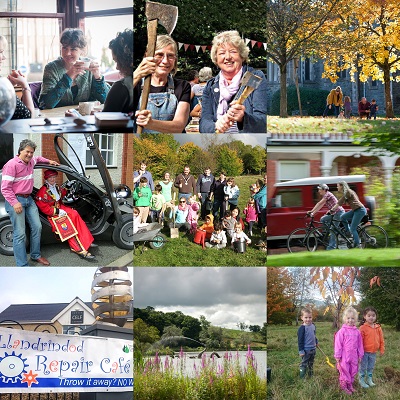 A discussion on the steps our local community can take towards becoming more self-sufficient. Come and take part and share your ideas for projects that you would like to see happen, from small gestures to grand designs!
The Llandrindod community has been doing great things to make ourselves 'future-proof''. However, with climatic impacts accelerating around the world, there is a long way to go, and worryingly little time to do it. Our dream is for Llandrindod to become a beacon for sustainability, local food production, and resilient communities. So… where do we go from here?
The evening will start with an introduction, then brief talks highlighting potential problems and opportunities in different areas, by Dorienne Robinson (Food), Sam Evans (Community) and Andy Bull (Energy). The chair will then open the discussion, with the aim of finding plans that can and will be taken forward to the next stage.
From small gestures to grand designs, all our activities combine to shape our community's future. The time has come to start taking those steps!
Please download and display a poster to help promote this event.
Details
Tuesday 22nd May, 7:00pm to 9:00pm
Herb Garden Community Café
Free admittance and all are welcome!
We invite you to a talk and discussion with Andy Bull on the development of biogas technology in the UK over recent years.
Andy will be concentrating on the potential of anaerobic digestion to improve agricultural practice and reduce greenhouse gas emissions and nitrate & phosphate pollution from the livestock industry – whilst also generating some renewable energy.
Details

Tuesday 24th April, 7:00pm to 9:00pm
Herb Garden Community Café
Free admittance and all are welcome!
Join us for a film screening and a discussion of the issues facing our food and farming systems here in Wales.
In Our Hands is a film made in association with
The Landworkers' Alliance
, telling the inspiring story behind the blood, sweat and tears of the farmers seizing the Brexit moment to outgrow the industrial food system. In 67 minutes, this film follows a group of different farmers and food producers over one year (2016), to observe their stories of success and the challenges they have faced.
Details