Making the change for a better future in Llandrindod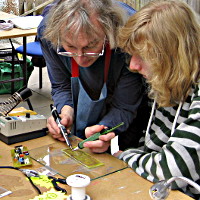 The next two Llandrindod Repair Café events will take place on Saturday 18th October and Saturday 15th November in the Rock Park, Llandrindod Wells, from 2 to 5 p.m.
Please bring along your broken and damaged items from home!
A variety of fixperts will be present to repair such things as small electrical items, computers, clothes, leather items and bicycles.
Tools and materials will be on hand; people are encouraged to make repairs themselves where possible.
Entry to the café is free (donations are requested to cover running costs). Items fixed at previous events include necklaces, handbags, bicycle wheels, electric heaters, saucepan lids, and even a carpet sweeper!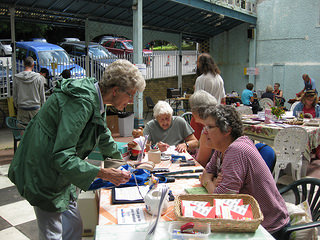 The café's slogan is "Throw it Away? No Way!"
By promoting repairs, Trawsnewid Llandrindod Transition wants to help reduce the mountains of waste.
The Repair Café is also meant to put the local community in touch with each other in new ways, and to help people discover that a lot of know-how and practical skills can be found close to home.
Llandrindod Repair Café was recently featured on the Guardian website as a shining example of a local community group. Joe Botting, speaking for the Repair Café organisers, said "It's nice to see the hard work of all the fixperts and volunteers being recognised. We hope that this publicity will encourage other people to set up Repair Cafés elsewhere."
Details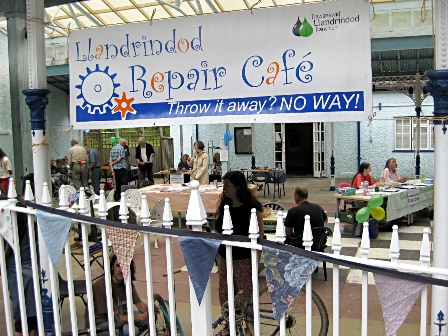 Llandrindod's first Repair Café was held in the Rock Park on Saturday, 12 July 2014. About 30 people brought items to be repaired: bikes, bracelets, brooches, lamps, trousers, a toy rocking-horse, an adapter, a soldering iron, a handbag and even a carpet sweeper! The sharpening table was particularly popular, with everything from scissors to mower blades being given a new lease of life. Approximately £50 was raised in donations, which will be used to offset the cost of the event.
Joe Botting, speaking for the Repair Café organisers, said "It's wonderful to see so many people getting so much enjoyment from repairing things. I've been amazed at the skills that are being shared here, and have been learning a lot too. We hope that future Repair Café events will be even more successful once word gets out."
The next two Repair Cafés will take place on the 9th of August and the 13th of September 2014 in the Rock Park. A range of experts will be available, such as electricians, computer specialists, seamstresses, general 'fixperts' and bicycle mechanics, to help make all possible repairs. Vacuum cleaners, lamps, hair dryers, clothes, bikes, toys, jewellery, crockery... anything broken or that doesn't work is welcome, and the specialists in Repair Café almost always have the know-how. Repairs are free of charge (donations are requested to help keep the repair café running). Tools and materials will also be on hand, and the experts will help and encourage you to make repairs yourself where possible.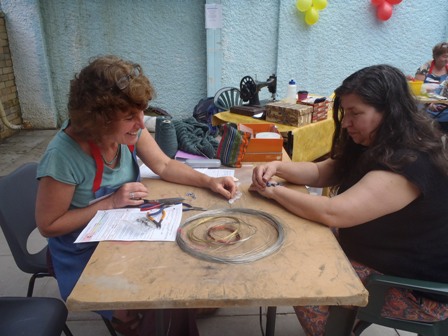 Llandrindod Repair Café is organized by Trawsnewid Llandrindod Transition, and supported by the Spa Town Trust and Llandrindod Recycling Group. The café's slogan is "Throw it Away? No Way!" By promoting repairs, Trawsnewid Llandrindod Transition wants to help reduce the mountains of waste. The Repair Café is also meant to put the local community in touch with each other in new ways, and to help people discover that a lot of know-how and practical skills can be found close to home. Many people have surprising skills, from leather-working to carpentry or electronics. Appreciating these skills and exchanging this knowledge leads to a healthier, happier community.
The Repair Café concept arose in Amsterdam, where the Repair Café Foundation (see www.repaircafe.org) has been organising gatherings regularly since 2010. Since January 2011, the foundation has provided support to local groups in and outside the Netherlands wishing to start their own Repair Café. The foundation also supports the Repair Café in Llandrindod.
download a Repair Café flier
Details
TLT are launching Llandrindod's very own REPAIR CAFE this month!! DONT MISS IT
12th July • 9th August • 13th September
Rock Park Canopy 2pm-5pm
THROW IT AWAY? NO WAY!
What do you do about a wobbly chair, a broken zip, a faulty toaster, a flat bike tyre? Few people consider repairing even small defects and many things get thrown away too soon as knowledge of how to mend things is vanishing. However, change is on its way! Local Repair Cafés are on the rise and becoming very popular. They are simply monthly gatherings where neighbours can learn to fix their broken items themselves, with support from skilled volunteers whilst enjoying a cuppa.
The idea is that any faulty item which is reasonably portable can be considered for repair. Help and advice with repairs is free, but if your item is successfully mended a donation will help to fund the service.
Your Repair Café wants to show you how much fun it can be to give your things a new lease of life and how easy it often is. Bring out your broken belongings and give it a go!
Details
This letter about Repair Cafes was sent to us by TLT member Martina Holmes, and is reproduced here with her permission
Dear TLT
I hope you don't mind if I tell you a little about a Dutch repair cafe which Don and I visited (by bicycle of course) when we were in Holland this month on a family visit. You may forward this to anyone interested.
We visited the Repair Cafe in Harderwijk, a town of about 45000 in the east of Holland, not far from where my mother lives. I wanted to see how they did it in the country where it all began.
To my surprise it happened to be the actual Grand Opening Day (ed: video clip below with commentary in Dutch) so the local press was there and all the volunteers and supporters of the new venue. It was held on the first floor of a very large modern glass building on an industrial estate on the edge of town. Next door was a large DIY warehouse (one of their sponsors) where visitors could obtain materials and spares. The place was also already a large recycling shop and one corner of this had been reserved for the repair cafe. Tea/coffee and cakes were provided by another local sponsor, a cake bakery.
As soon as I came in I was kindly welcomed by someone at the entrance. There were a few speeches and then one by one the 15 or so volunteers - men and women - were introduced to the bystanders and presented with a special apron with its own logo printed on it. It all looked very professional, but everyone was really nice and enthusiastic. There was a terrific atmosphere.
I spoke to several people there, volunteers and visitors alike. The local press had been covering the story since December. They'd had a trial run among the volunteers (which we will do in Llandrindod also). They offered various repair skills, such as for electronics, bicycles, sewing, woodwork, computers. Quite a few people were retired, one husband and wife couple had also joined.
The things I saw being brought in for repair were 2 bicycles, a vacuum cleaner, a jumper with holes in it, a broken wooden garden chair, an old radio cassette recorder and a coffee maker. All in all I thoroughly enjoyed the experience and I was ever so impressed by the way they threw themselves into it. You could see that months of preparation and publicity had preceded the startup.
I have also been in touch regularly with (TLT supporter) Jackie, who has recently visited a Repair Cafe in Haarlem, in the west of Holland. This was one which had been running for 2 years and was held in a restaurant of an old people's home, but they began originally in a garage. She told me that about 50% of goods brought in were repaired, a decent number I think! Some repair cafes specialise in mending certain things such as furniture. Some volunteers work for several cafes. This particular cafe typically received around 20 to 25 visitors per session and a queuing system had to operate. Coffee and cake is provided while you wait, as is the opportunity to have a chat. The idea behind it is that this venue will also promote social contacts and cohesion in the community.
I hope this was useful and of interest. Best wishes, Martina
Details