Making the change for a better future in Llandrindod
Tuesday 26th March 2019, 7:00pm to 9:00pm
Free admittance and all are welcome!

Nine out of 10 mouthfuls of food in the world come from plants grown from seeds. Currently about 75% of seed sold around the world is produced by large agri-chemical companies. At the start of the 1900s it was possible to find over 500 varieties of cabbage seeds available commercially. Towards the end of the century this was down to just over 20. The pattern is the same for most of our favourite vegetables and fruits.
This lack of diversity in our food crops has huge implications for food security, biodiversity and healthy ecosystems. Farmers and gardeners used to plant dozens of different crops, constantly saving seed, developing and adapting varieties to deal with many different challenges of soil, pests, disease, nutrition and flavour. The introduction of F1 hybrids on a commercial basis changed all this.
According to the United Nations Food and Agriculture Organization: "Plant genetic diversity is one of the central preconditions for food security. It provides the genetic traits required to address crop pests, diseases and changing climate conditions".
We can all do our bit by growing and saving seed from open pollinated seeds and avoiding F1 hybrids.
This month we welcome members of the Lampeter Seed Library to tell us about their project which started about 18 months ago. People can "borrow" seeds for free, collect seed for themselves and return some to the library for others to grow. They are resilient and adapted to local conditions and in these unpredictable times are a big step towards food security and food sovereignty. To help people gain in confidence they run seed saving workshops and always have people on hand to answer questions. Just like the plants they grow from their seeds, their membership is already well over 100 and growing all the time.
Please download and display a poster to help promote this event.
Details
Tuesday 26th February 2019, 7:00pm to 9:00pm
Herb Garden Cafe
Free admittance and all are welcome!

What can we do as a community to become more inclusive, increase resilience and reduce isolation?
Sandra Sankey from
Dementia Matters in Powys
will join us to tell us about her work using the Dutch model of 'Meeting Centres'. Sandra will present the value base and ethos of Meeting Centres, an approach that can be low cost, community orientated, inclusive and person centred.
Details
A great milestone reached at February's Repair Café - 1000 items fixed since we began in 2014!
Diolch yn fawr iawn to all of our talented fixperts who have made this possible, and of course to all of you who take the time to bring items to the Repair Cafe to be fixed rather than throwing them away - together we're making a real difference!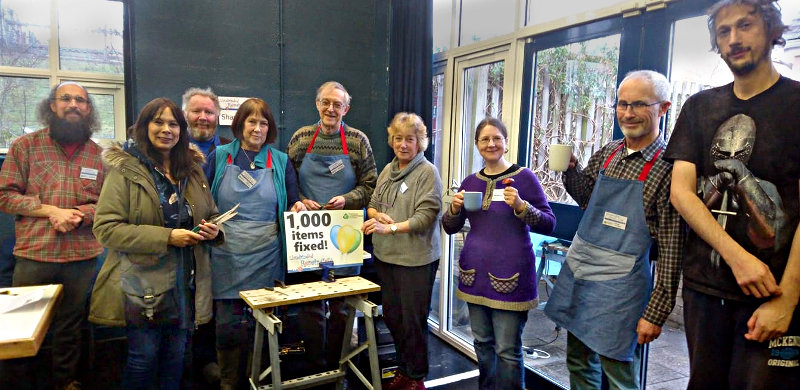 Details
Tuesday 22nd January, 7:00pm to 9:00pm
Herb Garden Cafe
Free admittance and all are welcome!

Plastic has recently been in the news as a major environmental issue, and plans are afoot to tackle the growing problem.
Already there are initiatives within Llandrindod aimed at finding alternatives to plastic packaging, from making permanent replacements to choosing stock carefully, and using local suppliers. In this meeting, local traders will share their views and experience on plastic and the alternatives, and their visions for how we can develop a more sustainable approach. We will also hear from non-traders who are setting up alternatives to disposable items.
The aim is a general discussion to discover what we can all do to both reduce our waste and encourage local sustainability.
Please download and display a poster to help promote this event.
Details