A talk by Tao Wimbush, Lammas Eco Village
Tuesday 26th January from 7pm to 9pm
at the Herb Garden Café, Llandrindod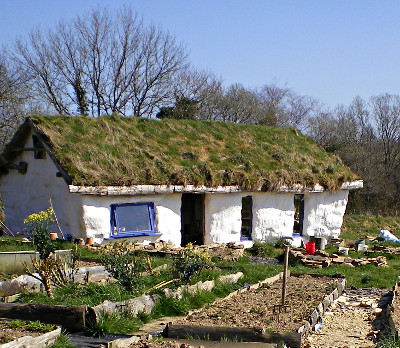 The Lammas Eco Village in Pembrokeshire received planning permission in 2009 under the Welsh Government's One Planet Development Policy. The policy essentially allows development in the open countryside provided that applicants can demonstrate that they are living a sustainable lifestyle, achieve greater productivity of the land than its former agricultural use, and use low carbon natural building materials.
Tao Wimbush, one of the original founders of the Lammas community, was a guest speaker at the recent Powys REconomy conference organised by the Powys Transition and Low Carbon Communities Network (PTLCC). In this video of his talk, Tao describes the planning process and the experience of living sustainably and answers questions from the audience.
We'll also show a couple of short videos showing how Lammas has developed over the past six years.
Free admittance includes cake and hot drink served at 7pm.
Further reading:
The Welsh Government One Planet Development Policy
The One Planet Council
Lammas Eco Village
A poster to help promote this event is available to download.