2:00pm to 5:00pm on Sunday 15th February
at the Herb Garden Café, Llandrindod.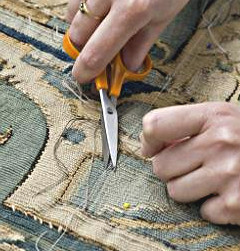 This special Repair Café event will be focusing on textiles. You are invited to bring curtains to learn how to add warm linings. Or bring garments, household linen and other textiles to learn how to make repairs such as darning, sewing on buttons, patching things, putting up a hem, and renewing elastic.
Lear how to make a "Snake Draught Excluder" (please bring your own stuffing).
There will be a textile- and sewing-theme Freegle Bring and Take stall – a chance to pass on your unwanted haberdashery!
Everyone is very welcome to enjoy a drink, a slice of cake and a chat -sewing is not compulsory!! We hope to see you there.
Entry to the Repair Café is free. Materials used are charged for and donations are requested to help cover costs. Hot drinks and cakes will be available to buy.