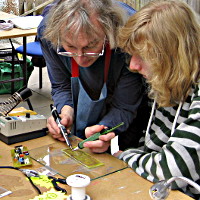 The next two Llandrindod Repair Café events will take place on Saturday 18th October and Saturday 15th November in the Rock Park, Llandrindod Wells, from 2 to 5 p.m.
Please bring along your broken and damaged items from home!
A variety of fixperts will be present to repair such things as small electrical items, computers, clothes, leather items and bicycles.
Tools and materials will be on hand; people are encouraged to make repairs themselves where possible.
Entry to the café is free (donations are requested to cover running costs). Items fixed at previous events include necklaces, handbags, bicycle wheels, electric heaters, saucepan lids, and even a carpet sweeper!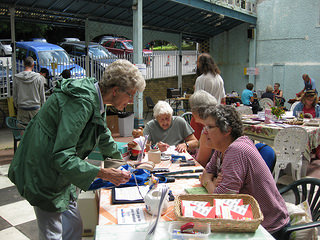 The café's slogan is "Throw it Away? No Way!"
By promoting repairs, Trawsnewid Llandrindod Transition wants to help reduce the mountains of waste.
The Repair Café is also meant to put the local community in touch with each other in new ways, and to help people discover that a lot of know-how and practical skills can be found close to home.
Llandrindod Repair Café was recently featured on the Guardian website as a shining example of a local community group. Joe Botting, speaking for the Repair Café organisers, said "It's nice to see the hard work of all the fixperts and volunteers being recognised. We hope that this publicity will encourage other people to set up Repair Cafés elsewhere."