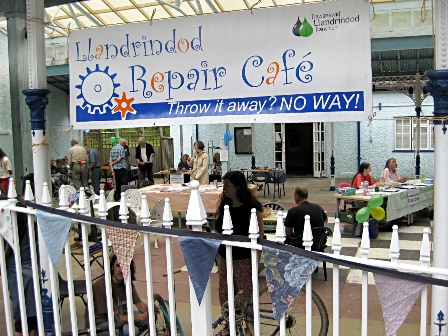 Llandrindod's first Repair Café was held in the Rock Park on Saturday, 12 July 2014. About 30 people brought items to be repaired: bikes, bracelets, brooches, lamps, trousers, a toy rocking-horse, an adapter, a soldering iron, a handbag and even a carpet sweeper! The sharpening table was particularly popular, with everything from scissors to mower blades being given a new lease of life. Approximately £50 was raised in donations, which will be used to offset the cost of the event.
Joe Botting, speaking for the Repair Café organisers, said "It's wonderful to see so many people getting so much enjoyment from repairing things. I've been amazed at the skills that are being shared here, and have been learning a lot too. We hope that future Repair Café events will be even more successful once word gets out."
The next two Repair Cafés will take place on the 9th of August and the 13th of September 2014 in the Rock Park. A range of experts will be available, such as electricians, computer specialists, seamstresses, general 'fixperts' and bicycle mechanics, to help make all possible repairs. Vacuum cleaners, lamps, hair dryers, clothes, bikes, toys, jewellery, crockery... anything broken or that doesn't work is welcome, and the specialists in Repair Café almost always have the know-how. Repairs are free of charge (donations are requested to help keep the repair café running). Tools and materials will also be on hand, and the experts will help and encourage you to make repairs yourself where possible.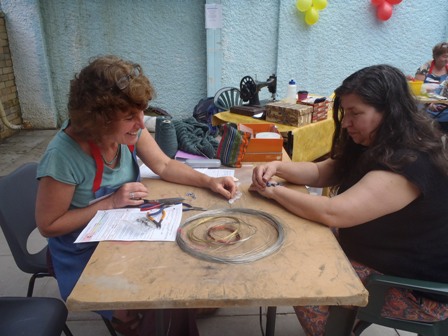 Llandrindod Repair Café is organized by Trawsnewid Llandrindod Transition, and supported by the Spa Town Trust and Llandrindod Recycling Group. The café's slogan is "Throw it Away? No Way!" By promoting repairs, Trawsnewid Llandrindod Transition wants to help reduce the mountains of waste. The Repair Café is also meant to put the local community in touch with each other in new ways, and to help people discover that a lot of know-how and practical skills can be found close to home. Many people have surprising skills, from leather-working to carpentry or electronics. Appreciating these skills and exchanging this knowledge leads to a healthier, happier community.
The Repair Café concept arose in Amsterdam, where the Repair Café Foundation (see www.repaircafe.org) has been organising gatherings regularly since 2010. Since January 2011, the foundation has provided support to local groups in and outside the Netherlands wishing to start their own Repair Café. The foundation also supports the Repair Café in Llandrindod.
download a Repair Café flier