Printer stops working after a particular number of prints?
Electric appliance bust after 2 years when your previous one lasted ages?
Underwear falling apart after a few washes?
Yearning for the latest must-have mobile phone?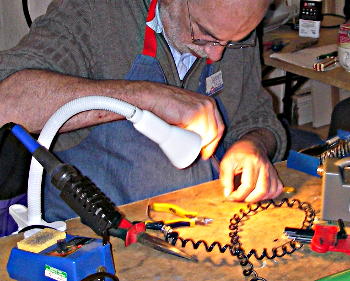 Manufacturers are forcing us to constantly update and buy new stuff. Replacement means profit, but it also means wastage of energy and raw materials and more rubbish and pollution.
Companies are also refusing to make consumer items more repairable. Service instructions are often absent or limited. Many new products are solidly glued or welded together to deliberately make repairs difficult or impossible.
Do you no longer wish to accept this "repair costs more than buying new" attitude? You are not alone. Have fun with repairing instead, with help and advice from our skilled volunteers. Did you know that as many as 50 to 70% of items brought in can be fixed at a Repair Cafe?
Some of the many articles mended at our previous events include necklaces, clothing, handbags, bicycles, electric heaters, a hedge trimmer, cd players, saucepan lids, a carpet sweeper and a clock. We even help you sharpen your blunted tools.
All this for just a small donation to cover our costs. A bargain? You bet!