Tuesday 26th May from 7pm to 9pm
at the Herb Garden Café, Llandrindod
How might agriculture have to alter as a result of climate change?
What changes can we make now to reduce our impact on the environment?
Do you want to eat less meat, but are unsure how to begin?
Come to the Herb Garden to find out about stock-free organic growing and vegan and vegetarian cooking.
The meeting will include a presentation, food tasting, a short film and a discussion session.
The presenters are Dorienne Robinson and Sian Meredudd.
Dorienne has been a vegan for twenty years. She is a qualified teacher, therapist and chef, and has taught Vegan and Vegetarian cookery and nutrition. For her Masters Degree in Advanced Environmental and Energy Studies she analysed the ability of Powys to feed its population in 2020 in the light of post peak oil and climate change. She also proved the ability to produce fruit and vegetables in Powys on a commercial scale by developing Allt Goch Organics at St Harmon, which became a centre for training and demonstration.
Sian became vegetarian in 1976 and ran a Vegan Society stand at the National Eisteddfod each year from 1986 till 2012. She edited and mostly wrote a small bilingual magazine called the Wales Vegan/Figan Cymreig from 1985 till 2015 which has now moved to an online publication. As a member of Compassion in World Farming she learnt about stock free farming. She is a keen organic gardener and practices Vegan Organic Nurture and finds that no-dig gardening with the addition of mulches and compost on undisturbed soil works well for her, the worms and the produce!
Details
Riversimple - developers of truly sustainable vehicles
7:00pm on Tuesday 28th April at the Herb Garden Café
Llandrindod is now home to a world class company working at the forefront of sustainable vehicle technology. Riversimple set up their new research and manufacturing base in Llandrindod towards the end of 2014.
They have a simple objective:
Mobility at zero cost to the planet.
We invite you to a special social meeting where Hugo Spowers, leading designer and engineer with Riversimple, will describe their approach to developing vehicles based on hydrogen fuel cells. Riversimple are also taking a fresh approach to vehicle ownership to make eco mobility as affordable as possible for everyone.
A poster is available to help promote the event.
Details
Tuesday 24 March from 7 p.m. to 9 p.m.
at the Herb Garden Café, Llandrindod
New Developments on the Heart of Wales Line
A presentation by David Edwards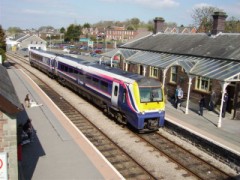 David Edwards is the Line Development Officer for the Heart of Wales Line Forum. He will be talking about the Heart of Wales Line Forum and how it fits into the railway industry, and the new initiative "Unlocking Mid Wales".
The Llandrindod Transition Town Group meets on the fourth Tuesday of each month from 7 p.m. to 9 p.m. in the Herb Garden Café, Llandrindod. The meetings are open to all, with free admittance (including hot drink and cake), a speaker or films and discussion. If you have an idea for low carbon, resilient Llandrindod that you want to put into action, or if you would like to help with events, activities and projects and meet like-minded people, TLT want to hear from you! ALL ARE WELCOME!
Details
Herb Garden Café Tuesday 24th February, 7:00pm to 9:00pm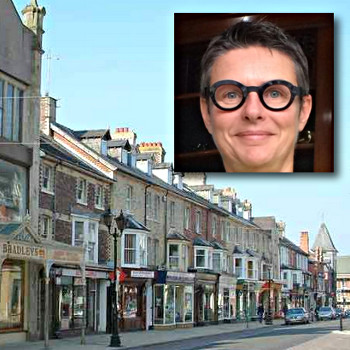 Free admittance includes hot drink and cake served at 7pm. All are welcome!
TLT are very pleased to announced the speaker at our February meeting will be Jude Boutle, who was recently appointed as Llandrindod Wells Town Champion, a one year appointment funded by the Welsh Government.
Over the past few years a group of local business people led some work through Miller Research in the town which resulted in the publishing of the Llandrindod Wells Economic Regeneration Plan (available on the Welsh Government website). The Welsh Minister endorsed this report and agreed to fund the Town Champion post. The approach being taken to regeneration in Llandrindod Wells differs from other Powys Local Growth Zone towns in that it is business led - Newtown has a peer to peer business adviser and Brecon is developing a website to showcase local businesses.
In Llandrindod, the approach is to deliver activity which will result in economic benefit for the town's businesses. There is an extensive action plan in the report so to ensure that the Town Champion's time is focused, the Business Group have identified six initial priorities which will be the subject of the talk.
Details
Our first open social meeting of 2015
JAN 27th 2015: COMMUNITY- OWNED WIND ENERGY
Herb Garden Cafe 7 to 9 pm.
Free admittance includes hot drink and cake served at 7pm. All are welcome!
Owen Callender and Paul Burrell will be giving a presentation on "Community-owned Wind Energy".
Owen and Paul are Development Officers from Ynni'r Fro, a programme funded by the Welsh Government. The programme offers social enterprises funding and free, independent advice and information to help develop their own community-scale renewable energy schemes across Wales.
The talk will explore the facts and myths of wind energy; steps in developing a scheme;a review of finance and governance models; and finally will look at some case studies of what other community groups have achieved.
Details