Community Orchard Planting Day
Monday 28th March 2016, 1:00pm - 5:00pm
Alexandra Playing Fields, near Rock Park
Over the past few weeks, local businesses and organisations have donated sponsorship for the first major planting day, which will take place on the afternoon of Easter Monday. Thank you so much to everyone who has sponsored the orchard already! Thanks to your generosity, there will be apples and pears, plums and damsons, mulberry, quince, currants and other fruits, and this is only the beginning of the project!
The fruit produced in the orchard will be free for anyone to pick, and it is hoped that the entire community will share in the bounty in the years to come. There will be dedicated days exploring and working on the site in future, and everyone is welcome to get involved in caring for what will build up to become a wonderful resource.
Everyone is welcome to come along and help with the planting on Easter Monday, 1:00pm -5:00pm, and to chat about the project with the organisers. Please bring lots of enthusiasm (and a spade or fork if you have one handy and want to get your hands dirty). We'll also be making compost bins, and getting some ancient brambles under control, so secateurs and gardening gloves would be a bonus.
If you'd like to know more, please This email address is being protected from spambots. You need JavaScript enabled to view it. or come along on the day!
Details
A few weeks ago we contacted local businesses and groups inviting sponsorship for new trees for the orchard. We'd like to say a HUGE thank you to everyone who has already offered their support in terms of tree sponsorship and volunteering to help.
We'll be confirming the date of our big planting day VERY SOON!
In the meantime you can follow our Facebook page if you like to get updates that way, and This email address is being protected from spambots. You need JavaScript enabled to view it. if you'd like to get involved or you have any questions or suggestions.
Details
The Pomarium got off to a great start with wonderful weather, donations of fruit trees and bushes, and several willing volunteers.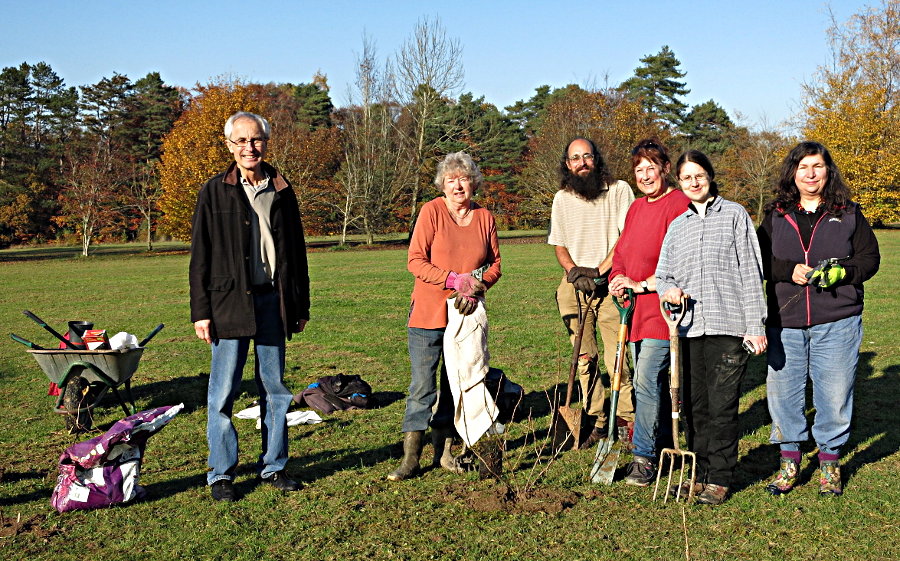 Over the winter we'll be organising the sponsorship plans and sourcing many more plants, ready for a major opening and planting day in March. Watch this space!
If you would like to be involved with organising this exciting new project, please This email address is being protected from spambots. You need JavaScript enabled to view it. - we'd love to hear from you!
Details
1:00pm on Sunday 1st November
TLT and Friends of Rock Park are jointly setting up a community orchard in Llandrindod. The orchard will be called Llandrindod Pomarium (Pomarium is the Latin word for orchard; there are Roman remains near the orchard site), with the subtitle of "Your Community Orchard: Fruit for Free".
Friends of Rock Park have agreed a licence for the site with Powys County Council and will handle the financial/legal side of things. TLT and FORP will jointly take care of the actual running of the project. At present there are three people from both organisations in charge of operations: Hilary Macauley, Joe Botting, and Lucy Muir. We would welcome more people to be involved in the planning and running of the project: please contact any of us if you are interested.
Read more about Orchard Planting Day
Details